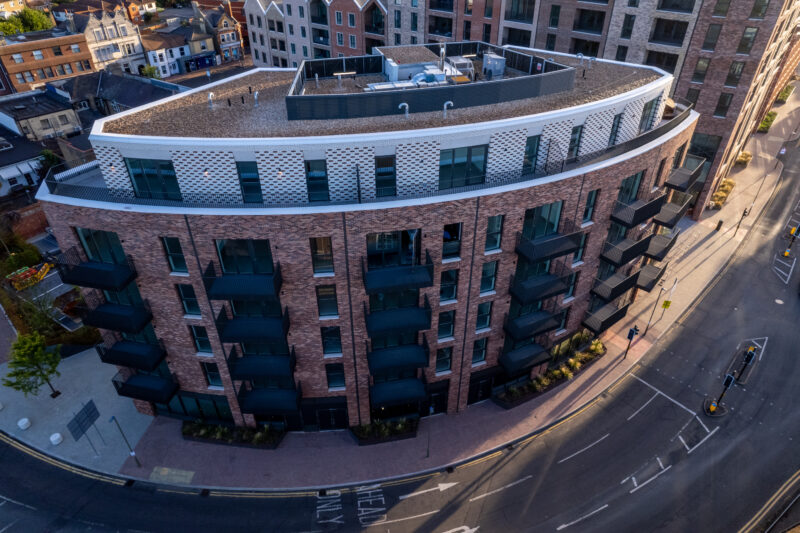 First images released of Council's completed £90m Magna Square
Posted: 20th September, 2022
The first images of the recently completed Magna Square have been released showing the stunning development which has modernised the top of Station Road North in the town.
The images from above show 10,700 square feet of new commercial space, and 101 residential homes, 67 of which are private apartments and 34 affordable homes for those on the Council's housing register. The whole square is encompassed by a new public pedestrianised area and flanked by Parish Hall, a 100-room student accommodation. Parish Hall has been ranked number one student accommodation in West London for the last 10 months on the Student Crowd website and is just a 15-minute walk from the university.
A new four-screen Everyman cinema will be opening its doors at the end of September to join the existing businesses; a new and improved 24-hour Budgens store and the popular Liberto Lounge. Several new independent brands and national chains are in discussions to open their doors over the coming months.
Council Leader, Cllr Tom Gracey said: "It's great to see these striking images for the first time.
"Seeing the completed square, shows the scale of the investment we've made in Egham. "In just a few years, we have regenerated this part of the historic town, ushering in a new era of Egham's development.
"We're proud that the success of this development is attracting people to live and work in Egham, encouraging new business to move in, and that more residents are able to benefit from the greater quality of life that our Borough offers."
Magna Square has recently been shortlisted for the British Homes Awards Regeneration Scheme of the Year.
Being considered for this prominent property award, comes on the heels of two further award successes. In early August, Magna Square also scooped one of five spots on the prestigious EG Awards' shortlist for the Public and Private Partnership trophy, with the winner being announced in November. Last year, the development was highly commended in the national Planning Awards for best mixed-use development.
The regeneration project has several green credentials, which feed into the Council's wider commitment to the climate, including highly efficient thermal insulation, low energy lighting and solar-controlled glazing, significantly reducing its carbon footprint.
Magna Square was developed as part of Runnymede Borough Council's town centre regeneration project, which also brought the Addlestone One shopping centre to the south of the Borough.
First time buyers looking to buy their first home in either Magna Square or Addlestone One will be able to take advantage of the Help to Buy scheme for purchases completed before the end of March 2023, provided they have reserved their home and applied for Help to Buy assistance before the end of October 2022.
To find out more about our residential or commercial properties for sale or rent, please go to: https://magnasquare.co.uk/