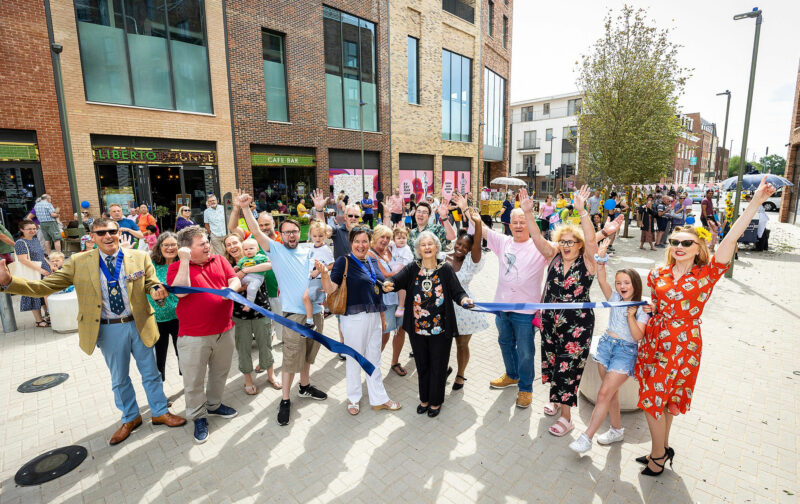 Happy birthday to us!
Posted: 11th August, 2023
We are ONE!
Happy 1st Birthday to us! 🎉🎂 It's been an incredible year of growth, community, and celebration.
We've seen new businesses come to Egham, new communities grow and strengthen, and we've been nominated for some amazing awards!
We've been shortlisted for the British Construction Industry Awards which is in recognition of the technical creation of the Square, and the World Architecture Festival, which is for our good looks! We'll be pitted against developments from all over the world, so keep your fingers crossed for us.
Since the official launch in summer 2022, we've also been shortlisted for the British Homes Awards Regeneration Scheme of the Year, were one of five finalists for the Estates Gazette Magazine Awards' Public and Private Partnership trophy and were commended in the National Planning Awards for the best mixed-use development.
Cllr Tom Gracey, Leader of Runnymede Borough Council, expressed his delight at the recognition received by Magna Square:
"In just a few years, we have revitalised this part of the historic town, ushering in a new era of Egham's development.

"It is wonderful to see that our strategy for town centre regeneration is being recognised for design and architecture awards around the world.

"We're proud that the success of this development is attracting people to live and work in Egham, encouraging new business to move in, and that more residents are able to benefit from the greater quality of life that our Borough offers."
So one year after launching, we've certainly made a splash! Join us in celebrating this milestone and cheers to many more years of success.
Watch the video to see the launch party in August 2022.