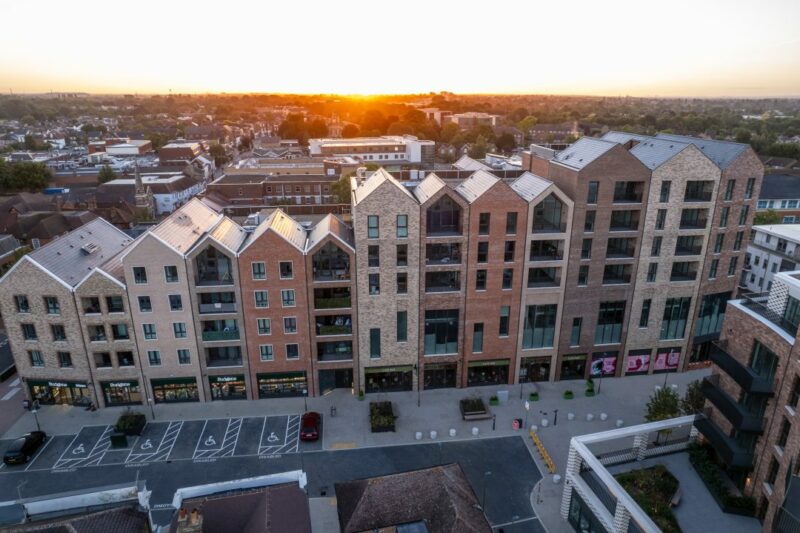 Excitement is building in the run up to award season
Posted: 5th October, 2023
Magna Square has been shortlisted for Residential Project of the Year at the British Construction Industry Awards, which will be held next week on October 11.
It has also been nominated for best mixed-use development at the World Architecture Festival , which will be held in Singapore in December, and best mixed-use project at the Architect's Journal Awards  in November.
Each of the awards celebrate and reward global design excellence in architecture.
Since Magna Square officially launched in summer 2022, it has also been shortlisted for the British Homes Awards Regeneration Scheme of the Year, was one of five finalists for the Estates Gazette Magazine Awards' Public and Private Partnership trophy and was commended in the National Planning Awards for the best mixed-use development.
Cllr Tom Gracey, Leader of Runnymede Borough Council, expressed his delight at the recognition received by Magna Square:
"In just a few years, we have revitalised this part of the historic town, ushering in a new era of Egham's development.

"It is wonderful to see that our strategy for town centre regeneration is being recognised for design and architecture awards around the world.

"We're proud that the success of this development is attracting people to live and work in Egham, encouraging new business to move in, and that more residents are able to benefit from the greater quality of life that our Borough offers."
With an investment of £90 million, Magna Square has revitalized the centre of Egham, providing a vibrant town square that has become a focal point for the community. The development has already gained popularity with the public, who have been enjoying Liberto Lounge, an Everyman Cinema, Starbucks, G&T Hair Atelier, and the 24/7 Budgens convenience shop.
Magna Square not only offers a dynamic town square for entertainment and retail but also helps to addresses the housing needs of Egham. The development has created 34 affordable flats, 67 apartments for private sale or rent, and 100 rooms for students from nearby Royal Holloway, University of London. This integration of various elements has transformed Magna Square into a hub that contributes to the local economy and fosters community engagement.